Nicoletta Corrocher, Bocconi University
Netflix's recent move to crack down on password sharing has boosted subscriber numbers by nearly 6 million in the last three months, for a total of 238 million subscribers globally. Netflix announced plans to limit sharing earlier this year after experiencing its first subscriber loss in a decade in 2022.
Its recent decision to offer cheaper, ad-supported tiers has also played a role in this increase in account numbers. This will help to buoy the streaming giant amid strikes by actors and writers, layoffs and concerns about the effect of the rising cost of living on subscription spending.
In fact, Netflix's leading position over a quarter of a century has already given it a solid advantage over an expanding field of competitors when it comes to attracting and keeping viewers. In March 2023, Netflix accounted for 7.3% of US TV watching time, more than streaming services Prime Video, Disney+, HBO Max and US network NBCUniversal's Peacock combined.
Netflix has achieved its position by attracting a large number of viewers and then using data about their viewing habits to constantly update its algorithm to improve their viewing experience. This strategy has also provided the company with the financial capability to switch from merely distributing content to actually creating its own shows and movies, such as Stranger Things (2016), House of Cards (2013) and Roma (2018).
But as the video streaming industry has become more competitive over the years, Netflix has had to keep changing its business model to survive. Regardless of its approach, a strategy called "network effects" – when the value of a product grows in line with the number of customers – has played an important role in its success.
Network effects
Founded in 1997, Netflix started out sending DVDs by post. This subscription-based service came with a US$19.95 (£15.42) price tag and no due dates or late fees.
The relatively low price helped build an initial critical mass of users, triggering a network effect. As more users joined the platform, the company could buy more content. This benefited existing users and attracts new ones. It linked the value of signing up to the number of users.
Netflix moved on to streaming films and shows via the internet ten years after launch – well before potential competitors. Again, it used the knowledge it had developed in the video content delivery market and data from its already large subscriber base to kickstart its online streaming offering.
Since then, Netflix's business model has continued to be strengthened by network effects. It has helped boost the company's investment in its own content, as well as strengthening the algorithm it uses to suggest what you should watch next.
Conquering content
Directors want their movies to be seen by the largest possible audience, while at the same time receiving a high price for their creations. Netflix's large base of users means it can spread the cost of a show over a large number of users, providing content creators with indirect network effects. It also triggers a virtuous cycle for users, who return to the platform thanks to the growing amount and variety of content.
Netflix's own content creation has built on this. Starting with Lilyhammer in 2012, it diversified its business model, from simple distribution to become a producer of very successful and popular TV shows, including The Crown (2016) and Squid Game (2021). It also started producing high-quality, award-winning movies such as The Irishman (2019) and The Trial of the Chicago 7 (2020). https://www.youtube.com/embed/FVb6EdKDBfU?wmode=transparent&start=0
Between 2020 and 2022, Netflix's original productions were the most in-demand originals worldwide. It had a 45.2% share of the market in the first quarter of 2022, although this was a drop from previous quarters. An increase in the number of subscribers over the longer term has allowed the company to invest more in the development of proprietary content, in turn attracting more subscribers.
This is the essence of positive network effects: people watch Netflix content and it analyses the resulting data to learn about customer preferences and behaviour as they do so. This feeds back into the creation of content that is tailored to what the audience wants to see. Of course, Netflix has also been investing in sophisticated technologies over this period to develop its algorithm so it can make decisions about whether to continue or cancel a show or make a movie.
Growing competition
The streaming sector is maturing as subscriber numbers stabilise for most providers.
No longer able to count on large flows of new users, Netflix must increase revenues from existing users. It started by creating a basic subscription, which includes advertising and cannot be shared, as well as standard and premium subscriptions. The latter do not have advertising and allow subscribers to add other people at reduced rates. This business model is similar to Spotify's family plans.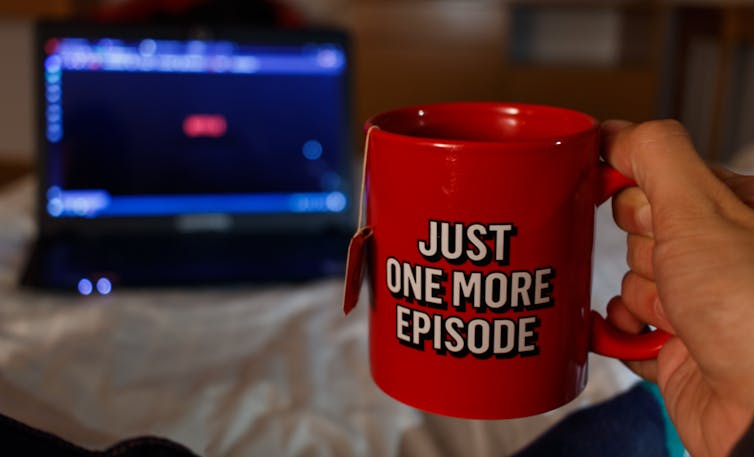 The company is witnessing an increasing churn rate as its users switch to new competitors – last year it was overtaken by Disney in terms of number of users. Netflix still leads the market on revenue per subscriber and time spent on the platform, however.
As the streaming sector continues to mature, Netflix's next challenge will be to continue to engage existing users of its platform by investing this money into creating high-quality shows and films. Indeed, according to its latest results, Netflix's yearly free cash flow – money it has to spend on things like content – has passed previous estimates of US$3.5 billion to reach US$5 billion.
Viewers around the world should keep an eye out for what Netflix will produce next to keep its user base entertained.
Nicoletta Corrocher, Lecturer in applied economics, Bocconi University
This article is republished from The Conversation under a Creative Commons license. Read the original article.