Laura Lomas, Rutgers University Newark
You likely recognize that the depiction of Latin American immigrants in politics today – as a menacing mass of recalcitrant Spanish-speaking invaders – is overwhelmingly negative.
What you may not know is that stereotypes suggesting that Latin Americans represent a threat to United States culture are not just morally repugnant – they're also historically inaccurate. Spanish-language literature actually predates the Puritans' writing in English by nearly a century.
As my research reveals, many renowned Latin American writers actually produced some of their finest work while living in the United States. Latina and Latino writers have made exceptional contributions to American literary history.
For a fresh take on what it means to be a Latina or Latino in the U.S. today, check out these five literary luminaries.
1. José Martí (Cuba, 1853-1895)
For Cubans, José Martí is the equivalent of George Washington, Ralph Waldo Emerson and Walt Whitman combined. Born in 1853 in Havana, Cuba, Martí wrote the bulk of his 28 volumes of prose, poetry and speeches in late 19th-century New York.
Working as a diplomat, translator, Spanish teacher and journalist, Martí interpreted current events and cultural questions from his office on Front Street, in lower Manhattan's South Street Seaport.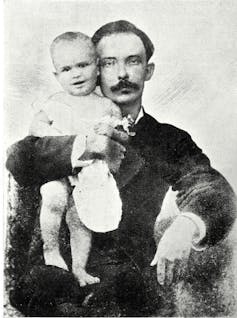 He witnessed immigrants arriving by the boatload to New York – except the Chinese, who were banned in 1882. He knew about the lynching of black Americans and of atrocities against Native Americans. These stories found their way into Martí's thinking about Latin America and its diaspora in the United States.
Martí also wrote dazzling accounts of New York, his adopted hometown, likening the cables of the brand-new Brooklyn Bridge to sated "colossal boa constrictors" resting atop towers.
Upon the unveiling of the Statue of Liberty in 1886, Martí alluded to the fact that his distant island home, Cuba, remained a Spanish colony: "Those who have you, O Liberty, do not know you. Those deprived of you must not merely talk about, they must win you."
Martí died in 1895, fighting for Cuba's independence. In 2018, he was inducted into the New York State Writers Hall of Fame, alongside local luminaries Colson Whitehead and Alexander Hamilton.
2. Julia de Burgos (Puerto Rico, 1914-1953)
Puerto Rico's greatest poet also migrated from her Caribbean home island, where she was a teacher, to the isle of Manhattan. Julia de Burgos recounts this literary journey in one of her most famous poems, "Yo misma fui mi ruta" – "I was my own route."
De Burgos' inventive, daring poetry did indeed forge a new path for feminists, Latina and otherwise, in the early 20th century.
Against pressure to identify as white, the mixed-race de Burgos proclaimed her African heritage, calling herself "Black, of pure tint."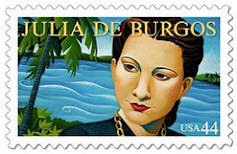 In one experimental 1938 poem, de Burgos addresses the distance between her liberated identity as a writer and her constricted role as a woman.
"You in yourself have no say; everyone governs you; your husband, your family," she writes in "To Julia de Burgos." "In me only my heart governs, only my thought; who governs in me is me."
In 1953, de Burgos was found dead, without identification, in uptown Manhattan and buried anonymously in a potter's field on Manhattan's Hart Island. A month later, her compatriots retrieved her remains and reburied her in Puerto Rico.
The New York Times featured de Burgos – a "poet who helped shape Puerto Rico's identity" – in its overlooked women's obituary series in May.
3. Gloria Anzaldúa (Texas, 1942-2004)
The poet and essayist Gloria Anzaldúa came from a family of Mexican-American farm laborers.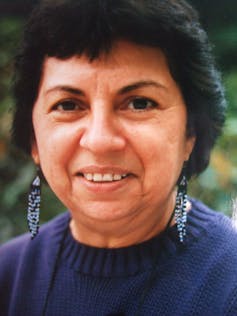 Her ancestors had for generations lived in Texas' Rio Grande Valley, near the border that Anzaldúa memorably defined as "an open wound where the Third World grates against the first and bleeds."
Anzaldúa's work often celebrates her community's bilingualism. She portrays it as an act of survival against the "linguistic terrorism" of the U.S. public school system, which required English-only teaching and offered "accent elimination" classes in a part of the U.S. that used to be Mexico.
Anzaldúa found such insults to her nonstandard way of speaking excruciating. "Until I can take pride in my language," she once wrote, "I cannot take pride in myself."
Anzaldúa is increasingly recognized as one of the 20th century's most influential feminist and anti-racist essayists.
4. Sandra Cisneros (Chicago, 1954-present)
No list of Latino authors is complete without Sandra Cisneros, author of the beloved "The House on Mango Street," which has sold nearly 6 million copies and has been translated into over 20 languages.
Why Cisneros has not received the same acclaim as Junot Díaz – a childhood sexual assault survivor who was recently accused of his own sexual impropriety – is perplexing.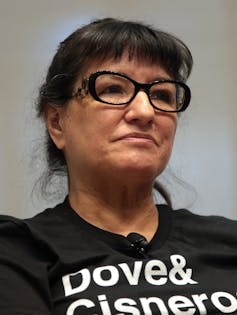 My favorite of her novels is "Caramelo." In this transnational coming-of-age story, a Mexican-American woman digs into her family history.
Learning from her abuela, Soledad, she discovers hidden truths about family tensions, border crossings and why her doting migrant papá, Inocencio, is not so innocent after all.
5. Cristina Henríquez (Delaware, 1971-present)
Cristina Henríquez, who was born in the U.S. after her Panamanian father went there to pursue graduate studies, is the best novelist you've never heard of.
Featuring first-person perspectives of Central and South Americans and Caribbean migrants, her books dramatically expand the popular conception of the U.S. Latino, long centered on Mexican-Americans and Puerto Ricans.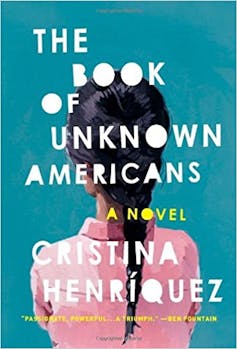 "The Book of Unknown Americans" tells the story of recent arrivals from Paraguay, Nicaragua, Guatemala, Panama, Puerto Rico and Mexico who live in a dingy apartment complex, enduring the back-breaking labor of harvesting mushrooms. Sometimes, after a 12-hour shift in the dark, they eat only oatmeal for dinner.
The teenage love story between the characters Maribel and Mayor – written in prose that The Washington Post says rises "to the level of poetry" – may help American readers appreciate the myriad reasons why Latin Americans migrate north, including dictatorships, a lack of specialized health care and violence.
That is, I think, Henríquez's hope. As one Mexican character angrily states, in the U.S. he feels both invisible and vilified.
"I want them to see a guy who works hard, or a guy who loves his family," he says. "I wish just one of those people, just one, would actually talk to me. … But none of them even want to try. We're the unknown Americans."
Laura Lomas, Associate Professor of English, Rutgers University Newark
This article was originally published on The Conversation. Read the original article.