Nancy Lough, University of Nevada, Las Vegas
As someone who has studied the WNBA for years, I've been excited to witness, over the course of this season, continued growth in viewership and attendance, along with sponsorship revenue.
Last year, total attendance for the WNBA's 12 teams reached 1,574,078, with an average attendance of 7,716 fans – a new high for the 21-year-old league. Three teams experienced double-digit growth: Attendance was up 17.8 percent for the Los Angeles Sparks, 15.3 percent for the Connecticut Sun and 12.3 percent for the Minnesota Lynx.
As a point of comparison, the NBA didn't draw crowds of this size until its 26th season, when the league averaged 8,061 fans per game.
The WNBA's growing popularity has made pay equity a hot topic in the sport, and over the course of this season, several players have drawn attention to the issue.
WNBA players aren't asking to be paid on par with their NBA counterparts. But should they be seeing an increase in their earnings?
Points of comparison
Last year, the average WNBA salary was US$71,635, and this year appears to be closer to $75,000. The maximum veteran salary is $113,500.
Meanwhile, for the upcoming NBA season, the minimum salary of a professional NBA player is $838,464.
Of course, the NBA rakes in far more revenue. However, in the 1971-1972 season – the year the NBA started drawing the same number of fans that the WNBA attracts today – the average salary was $90,000, which would equate to roughly $500,000 today.
Finding accurate financial data on any sport league is challenging. But using league revenue, economics professor Dave Berri was recently able to calculate a significant gender wage gap in another respect.
He estimated that WNBA player salaries constitute 22 percent of league revenue, while NBA player salaries amount to roughly 50 percent of league revenues. The fact that NBA players get a much larger piece of the revenue pie does seem to say something about how each respective league values its players.
Of course, a bump to 50 percent of WNBA league revenue isn't realistic, because there's a difference between revenue and profit. While the NBA is quite profitable – with a blockbuster $24 billion TV deal, billions of dollars in advertising and a robust revenue sharing system – only about half of WNBA franchises finish the season in the black.
Tapping into revenue streams
Clearly, the WNBA still needs to work on establishing its long-term viability, and some might argue that the players shouldn't request raises until the league has become more financially stable.
Yet much progress has been made on this front, and the league has found particularly innovative ways to promote its players, grow its fan base and tap into new revenue streams.
In 2009, the WNBA decided to include sponsor logos on their jerseys. The move was controversial at the time – given all major sport leagues in the U.S. had previously opted to keep jerseys free of advertisements – but the NBA followed their lead in 2017. This year, the WNBA gave companies the opportunity to sponsor a second jersey patch, while offering sponsors the chance to include a logo on the court during games that don't air on ESPN. Not surprisingly, sponsorship revenue, in turn, has grown.
Other strategies have also paid off.
In 2014, the WNBA launched the first marketing campaign in professional sports to directly appeal to the LGBTQ market. The success of this campaign resulted in the WNBA being the first pro league to take part in the NYC Pride Parade in 2016. This year, all of the major professional sports leagues had a presence.
Some feared that such a campaign could alienate other segments of the league's fan base. But the risk also offered reward: 15 million Americans self-identify as LGBTQ, and they represent a market segment worth around $830 million. Furthermore, two years earlier, the league studied its fan base and discovered that 25 percent of WNBA fans identified as lesbian.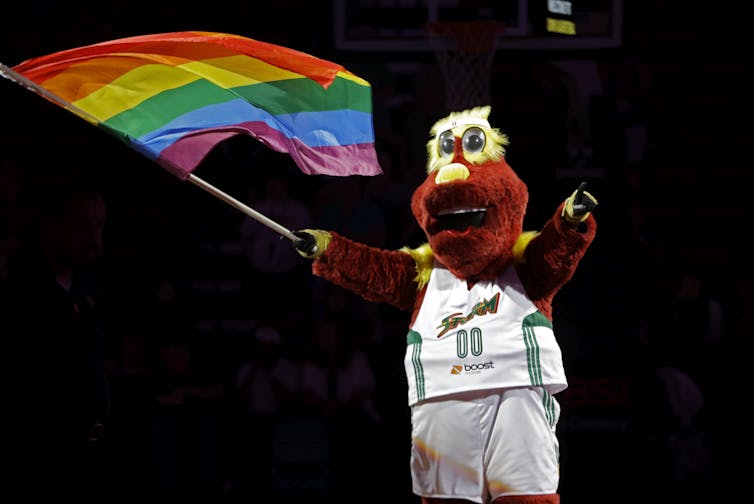 Following the success of the 2014 Pride Campaign, the league has continued to reach out to gay fans, promoting stories about their LGBT players, and offering special merchandise for Pride Month and Pride Night games.
In a way, this strategy makes perfect sense. The league has more gay players and fans, percentage-wise, than any other major professional sport. In the 2018 All-Star Game, for example, 32 percent of the roster identified as gay. Marketing researchers have discovered that consumers respond more favorably to marketing initiatives that cater to their identities. As former WNBA President Laurel Richie noted in 2014, "For us it's a celebration of diversity and inclusion and recognition of an audience that has been with us very passionately."
The WNBA has also been eager to experiment with social media and new streaming platforms to connect with fans. In 2017, the league aired 20 games live on Twitter, while also offering a new fantasy game on the fantasy platform FanDuel. And for the first time, gamers could play with WNBA players in NBA Live 18.
As a result of all this, merchandise sales grew by 18 percent in 2017, attendance has increased, more people are tuning in, and players are acquiring significant social media followings.
But even with all this growth, there's one enduring challenge: media exposure.
Where's the media attention?
In 2014, ESPN paid the WNBA $17 million for broadcast rights. That same year, however, only 2 percent of airtime on the station's flagship show, SportsCenter, was allocated to women's sports.
For decades, sports media figures have argued that interest drives coverage. But interest is also clearly driven by media: If a network highly values a property, it'll market and promote it as a way to build an audience.
Ninety-five percent or higher of sports media content is focused on men, even though women make up 40 percent of all sports participants. Women represent 44 percent of NFL fans, while 28 percent of women say they follow pro baseball, and 29 percent report that they follow the NBA.
This lack of media coverage has always hampered women's sports. After all, sponsors want exposure for their brand. The more exposure they receive, the more they'll dole out the cash for sponsorships, endorsements and advertisements.
WNBA players aren't asking for NBA level compensation. It took the NBA 72 years to get to where the league is today, while the WNBA is only in its 21st season. The women of the WNBA are simply seeking the recognition they deserve for their performances.
The WNBA's current collective bargaining agreement won't expire until October 2021, with the maximum salary paid to WNBA veterans set to increase $8,000 – from $113,500 to $121,500 – by that year, which barely keeps pace with inflation at its current rate.
However, the players union has the option to terminate the agreement after the 2019 season if they give notice by Oct. 31 of this year. This would give them the opportunity to negotiate a new deal that increases the salary cap, along with maximum and minimum salaries.

With this deadline looming, the players would be wise to take advantage of this opportunity – and compel the league to come to the table with an offer commensurate to their worth.
Nancy Lough, Professor of Educational Psychology & Higher Education, University of Nevada, Las Vegas
This article was originally published on The Conversation. Read the original article.